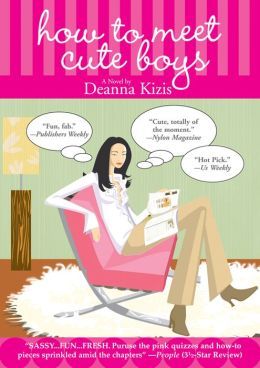 The other day I was looking for a new book to read in my school's library. Then I saw it, with it's hot pink cover and some silver sparkle…It just kind of stood out to me. The name of the book…ready for it? How to Meet Cute Guys. Of course this is the book that caught my attention right away. Nothing like a little young adult novel (yes a novel, not a self-help book) to spark my interest on a topic I could use some help with. I decided to pass on checking it out; however, I did skim it. I'm human after all.
Later in the day, I was talking about this book with my friends joking that I was going to take it home and read it cover to cover and we were joking around that unless cute guys are coming right to our doors (which they aren't), we aren't meeting them. This got me thinking, where can us girls meet some cute guys in this freaking city? I mean, seriously!!
This topic of how hard it is for the single girl to meet a man comes up quite often in New York City. I can tell you from experience, its certainly not a bar. And if it is, its not the bars I go to. In articles all the time, I read that places like Trader Joes,Whole Foods, Zog Sports leagues, your morning train/bus are such great pick-up spots. Well guess what? I go to those places quite often, and the well is dry. DRY! So, seriously, where are all the cute men at, yo? Where are you guys hiding?
I know where a lot of the single ladies are in the city, and its a damn shame that more single men don't frequent these places. Places where I go often and always think to myself  "If I were a guy, I'd come here all the time to meet chicks." Guys, you should be going here! Come meet us ladies (specifically me though). These places are total fish markets (which for those of you who live in a bubble is the opposite of sausage fests). I spend a lot of my time at places like these and it would be nice to see a handsome, fit guy there who isn't with his girlfriend (so annoying, but I would do the same) or isn't into other dudes (not that there's anything wrong with that.) So gentleman, if I could write a book like the one I saw in the library, I'd call it: Where to Meet Cute Girls and it would include the places I list below. Basically dudes, these are places you should be going to in order to meet some great ladies. Frankly, I'm sick of seeing just all girls at these places. I want some eye candy. Some fresh meat. And the few times there are guys at these places, every girl is clamoring over him. It's quite funny actually. The odds are not with us, but they are with you! So take advantage. Go to these places. You will have your pick of the litter and most importantly, will increase our (my) odds of meeting a potential suitor while we are here! Ready, set, go…
1) Soulcycle/Flywheel. Have you ever seen the clientele at these places? They are like 90% female. Fit, fun, cute females. (Holy shit, did I just describe myself? Maybe…yeah. Yeah I def did.) Besides running, this is my activity of choice. I love me some spin. It's good for the mind and the body. I get a great, fun workout at these places and sure, I may be able to make a friend or two while here which is great and all, but my future husband isn't in the class. Yet. C'mon guys, that bike next to me isn't going to ride itself.
Boutique gym classes like Exceed, Barry's Bootcamp, and Fhitting Room are also highly acceptable choices.
2) Juice Generation/Juice Press. If I could afford to have all my breakfasts, lunches, and snacks here, I would. It's healthy and its delicious. And most other health-conscious females I think would agree. The reason I didn't put dinner on here is because I need some meat in my life. (Yes that real meat, but also the other if you catch my drift. Zing.) Out of all the places on this list, this place usually has the most men, but they are usually in and out. Stay a while and sip that juice/smoothie fellas.
3) Lululemon/Athleta. Where else does one get her apparel for her gym classes? I mean, I have a few pieces from these stores, but once again, I can't afford to shop here regularly, but that doesn't stop me from going in and browsing. (And leaving my fingerprints and drool marks on the window displays. Kidding.) Lulu even has a men's section which gives you guys a great excuse to head on in there and scope out the scene.
4) Just Salad/Chop't. These salad places are chick central. And guys, you too can make a meal out of a salad. It's not a bad option. And usually us girls are sitting alone, so come on in, order your custom salad and perhaps meet your mate.
5) 16 Handles. Not much can come between a girl and her fro-yo. Except maybe a cute guy. So get on over here and share some of this cookie dough, peanut butter, chocolate frozen yogurt with us. You can even pick the toppings. It will all taste even better with a cute special someone by your side.
While this list might be a little too Upper East Side/West Side-centric for some, the places listed are ones I frequent often and need some testosterone added to the mix. To answer my question earlier wondering where all the cute men are at, its certainly NOT at these places, but it surely needs to be. I'm sure most neighborhoods have similar places to these where the women to men ratio is out of control. Guys, start going to these places if you want to scoop a chick.  This article is basically for you. I'm telling you where to meet some eligible women. Get on it. And hope to see you there.