National Pistachio Day is today and to prepare I've made these crumbly pistachio shortbreads dipped in white chocolate and more pistachios. The cookie is very delicate and easily crumbles in your mouth. The white chocolate adds on a bit a of sweetness and the pistachios give it that extra crunch. Easily transportable, these cookies would make a great gift!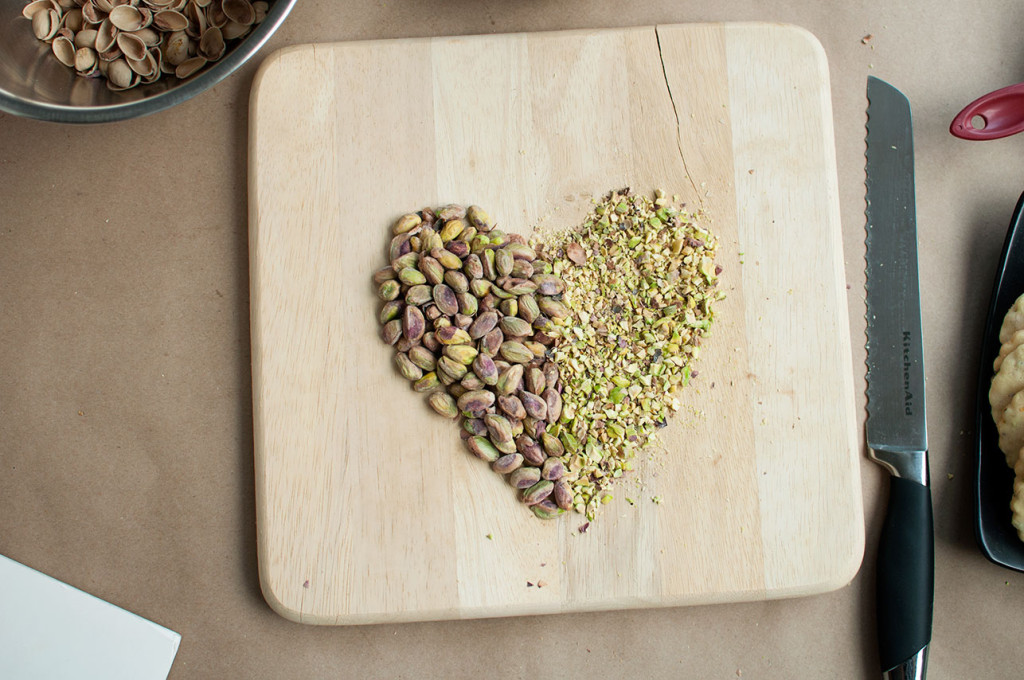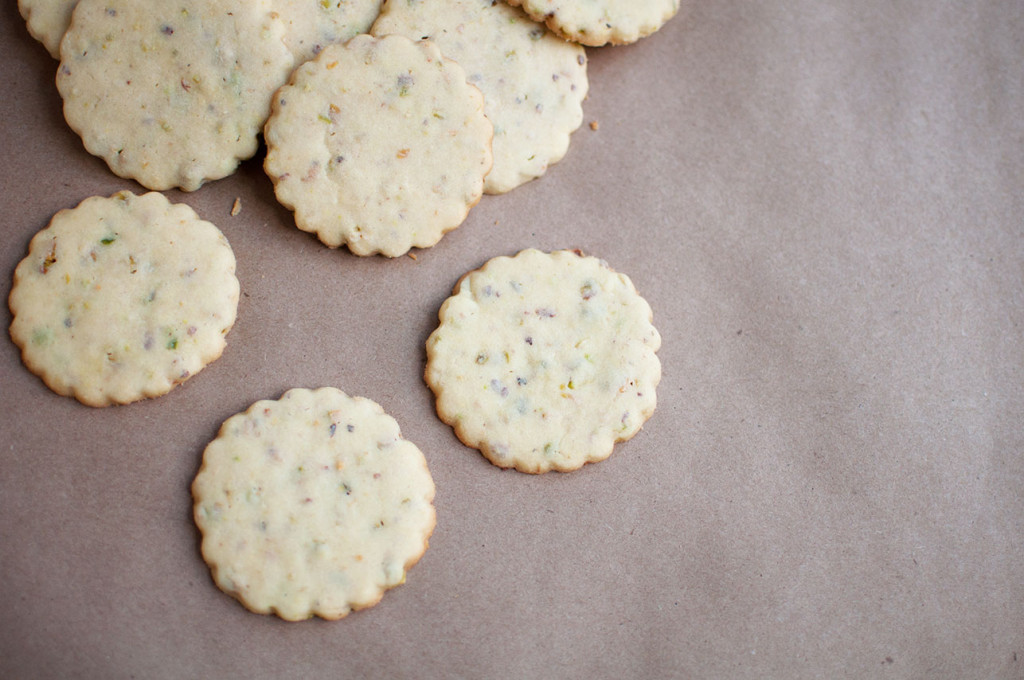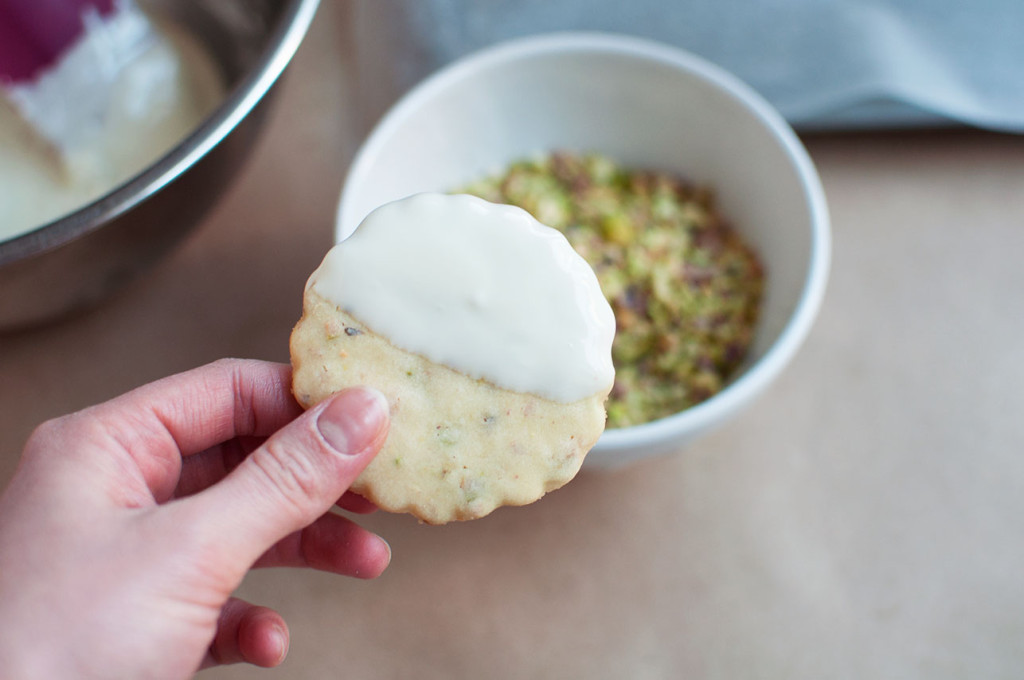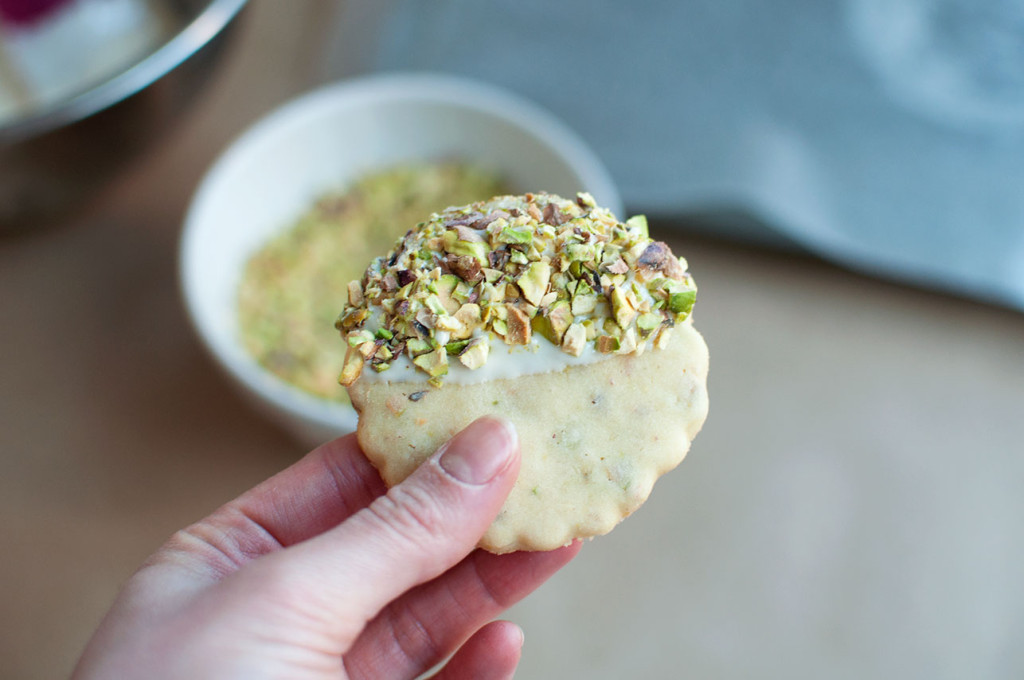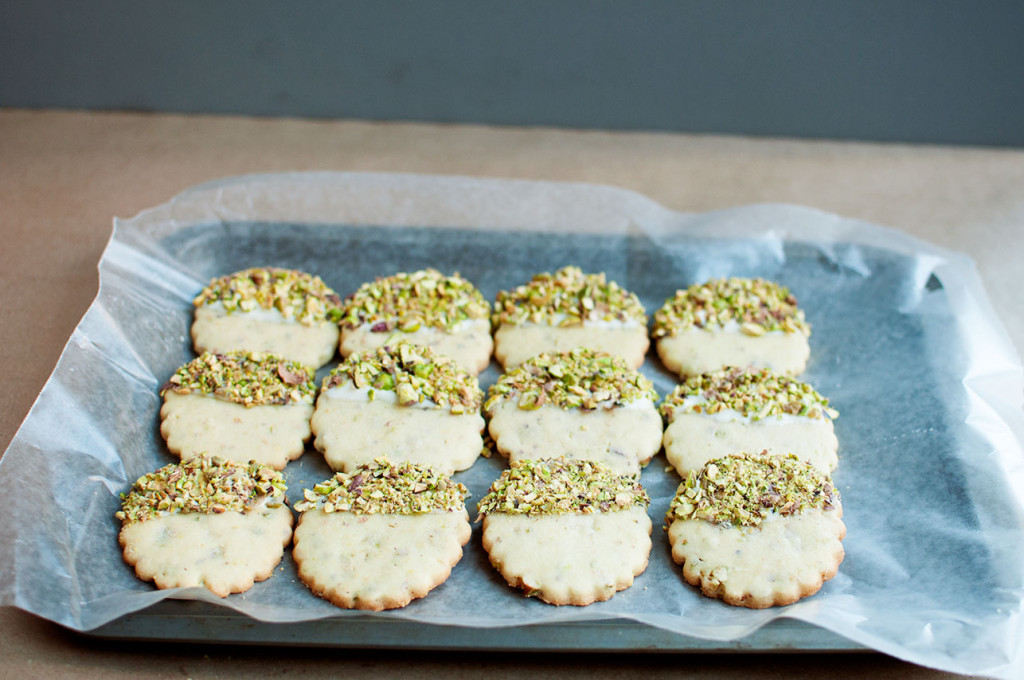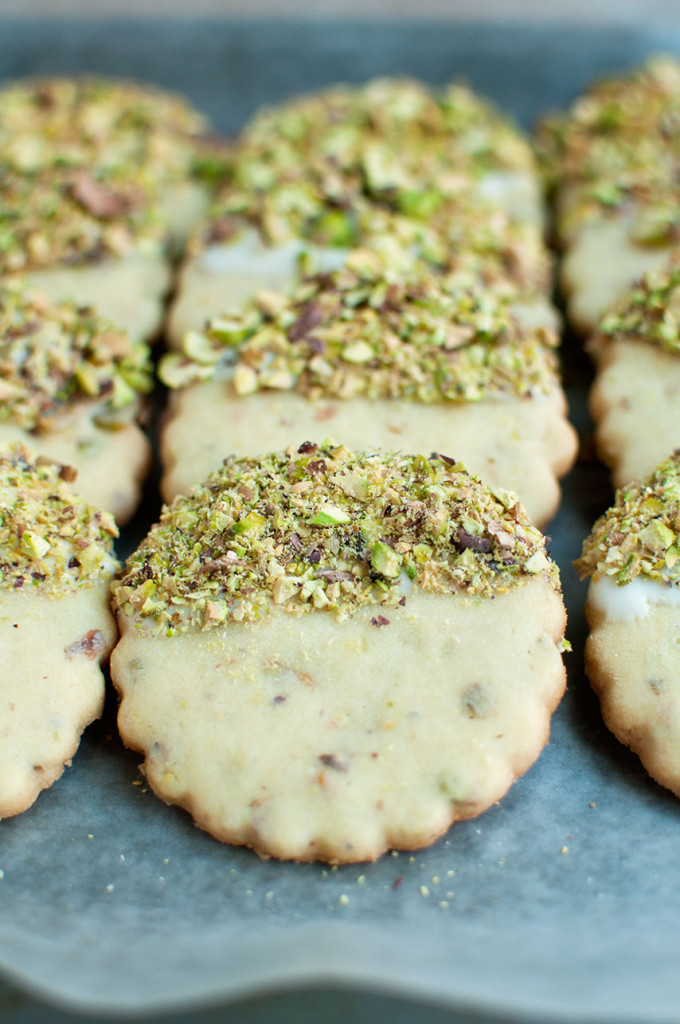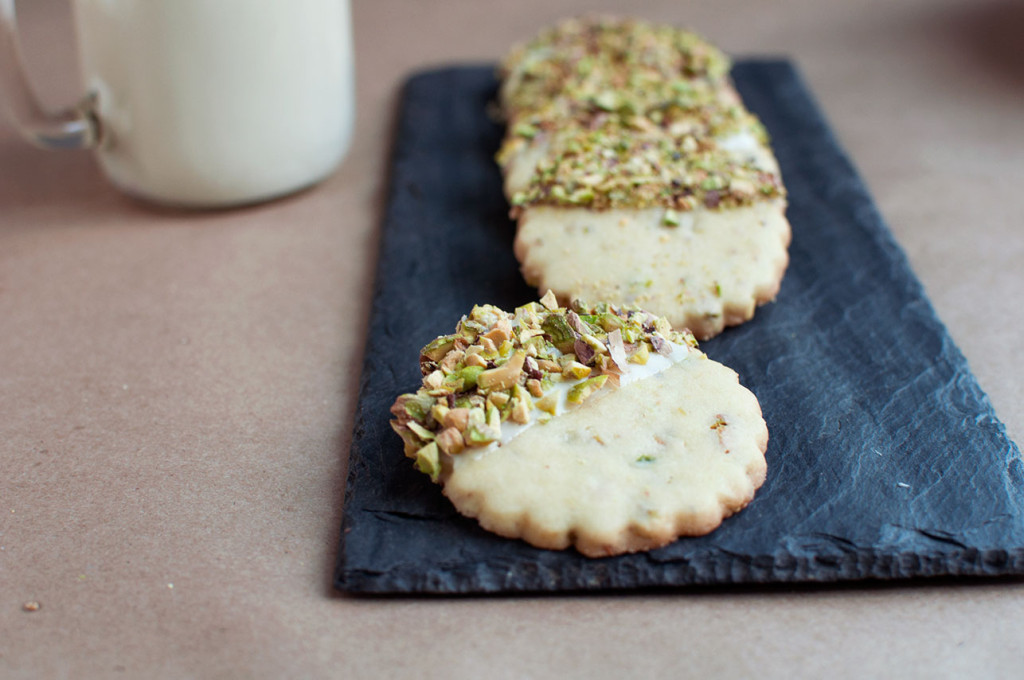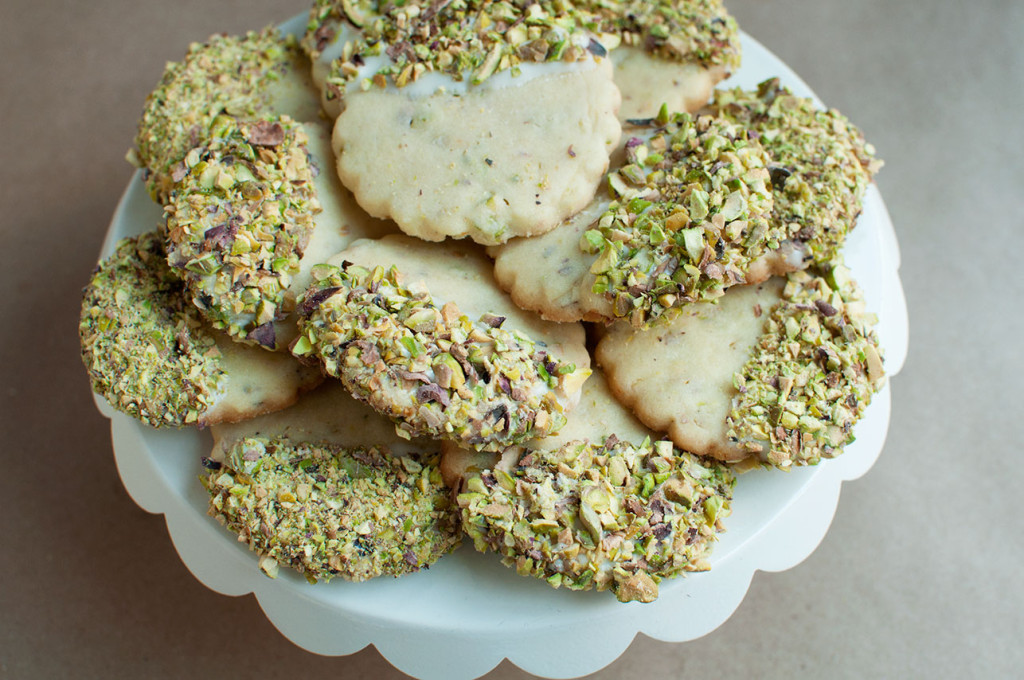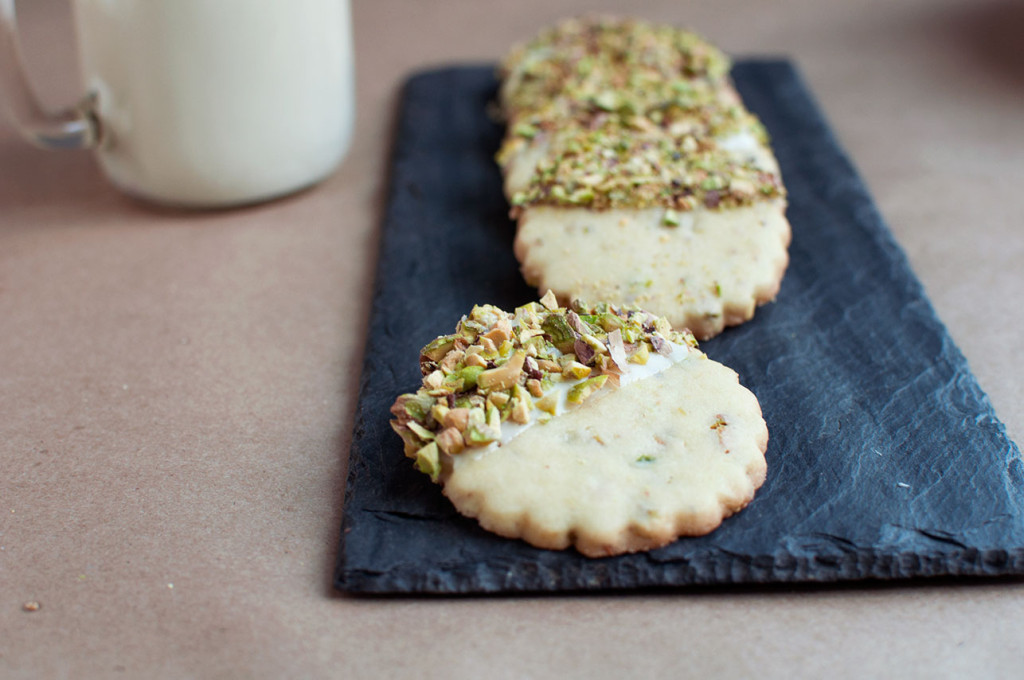 Pistachio Shortbreads Dipped in White Chocolate
Ingredients
Instructions
In the bowl of a standing mixer, combine the flours, sugar and salt. Mix on low speed for 30 seconds.
Cut the unsalted butter into cubes and add into mixer. Mix on low speed for 2-3 minutes or until the mixture has the texture of parmesan cheese.
Add in the egg yolks.
Add in 1/2 cup of the pistachios (you will reserve the rest for decoration later). Mix on medium speed until the dough comes together to form a ball.
Spoon dough out onto a piece of saran wrap. Wrap dough and let chill in refrigerator for 15 minutes.
Once the dough has chilled int he refrigerator, remove and roll out onto a lightly floured surface so that it is 1/8″ thick.
Preheat oven to 325 degrees F.
Cut out desired shapes from dough. We used a small scalloped edge cookie cutter and made about 2 dozen cookies.
Use the 2 tbls of butter to lightly grease cookie sheet. Place cookies onto cookie sheet.
Bake in oven for 10-12 minutes or until the edges begin to turn a golden brown.
Remove from oven and let cool slightly. Transfer to wire rack and let cool completely.
Place white chocolate (either chop your chocolate or use chocolate chips) into a heat proof bowl and place the bowl on top of a pot of simmering water. You want to create a "double boiler" in order to melt the chocolate.
Stir chocolate until it has fully melted. Remove bowl from atop simmering water.
Dip half of the cookie into the white chocolate to coat both sides and then immediately into the chopped pistachios.
Lay cookies out on wax paper to harden. Repeat process until all cookies have been coated.
Enjoy!