2014 was like no other SXSW Austin has seen. By now the music capital of the world is used to the utter chaos that occurs during the 3 week festival, but this years booze filled parties, perfectly mixed line up's, and eager festival goers stepped it up a notch. The energy was sky high, the sun was shinning and the cold beer was plentiful. Just what the doctor ordered.
And while SXSW usually brings in much larger acts to headline showcases like the Fader Fort and the Doritos concert series, it's usually the smaller, once street performing acts that leave you longing for more and truly make the festival what it is. Fucking epic.
With over 2,000 artists performing across the hipster infested downtown area, it was nearly impossible to catch everything but here's what stood out: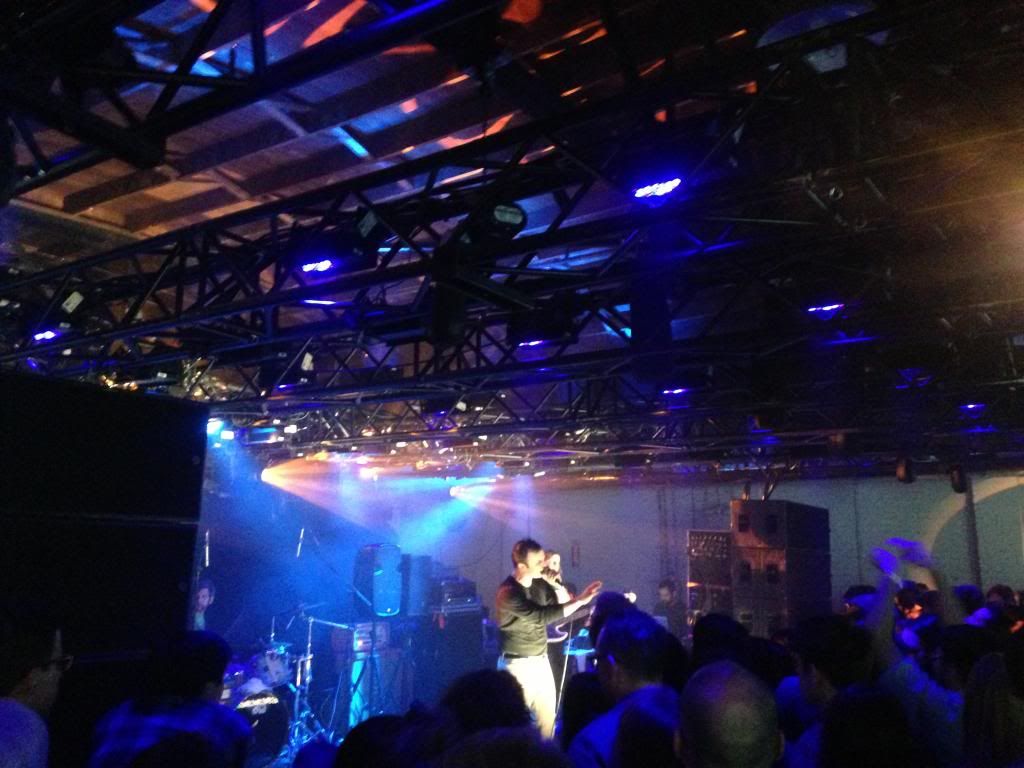 Best Performance |
Future Islands
Future who? I'll say it again. FUTURE ISLANDS, YOU GUYS. Having waited in not one, but two winding lines to get into this years Hype Hotel (put on by Hype Machine), I wasn't looking to just awkwardly dance around with my free tacos and vodka, I was looking for some REAL music magic. A really killer music experience to kick off this years SXSW, and magic my friends, was exactly what I got.
Following the outrageously cool Dum Dum Girls, and a DJ set reminiscent of RAC and Girl Talk, Future Islands really brought the hype (if it could even be brought anymore) with their electronic, head-bobbing, super sexy-time vocals. As per usual you could tell there were the "die-hard" fans at the show, that knew every song word for word, and danced unabashedly like teenagers in their bedrooms. But, you could also tell there were the Hype goers that were not as familiar and perhaps even intimidated by the energy exchange between lead singer, Herring, and the glossy eyed fans. However, by the end of the show, there was a full on music orgy happening between everyone in the room and it was definitely orgasmic.
As the 40 minute set neared the end, Future Island's musical exuberance was not only apparent, but evidently contagious, as everyone walked out body pulsing and shoulder shaking. Personally I don't know if it was Herring's mega confident performance or his ass hugging mom jeans – but I'm a fan and you should be too.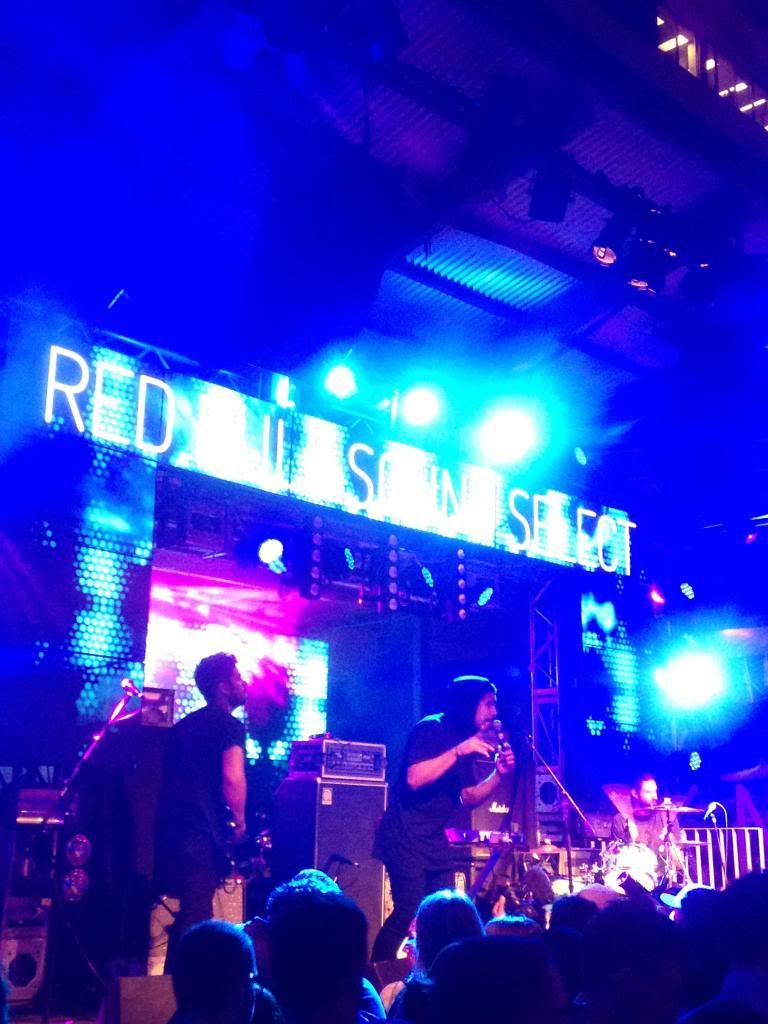 Performances to Remember |
Sound Select featuring Sleigh Bells w/ Tapioca and the Flea! and Tink
"Rill Rill," you guys. Headlining Red Bull's Sound Select stage Alexis Krauss and guitarist Derek Edward Miller of Sleigh Bells rocked the Belmont so hard that Red Bull handed out ear buds. Seriously. I have them in my bag. But OH was it worth it! The night was a full visual, body thrusting, dance experience that had everyone on their feet. Between Krauss and the opening act, Tink, the theme of night was clear- Sound Select was bringing us power house, pure rock and roll and beat dropping women that gave everyone hard ons. Now, let's not leave out Tapioca and the Flea!, who set the stage up for us and got everyone in the party vibe. Honestly though, I cant help but crush on a girl who rocks out so hard that you're afraid she might actually physically injure herself. That's how intense things got you guys. Also, got to love a bad ass woman who ends a show with a crowd surf. Just saying.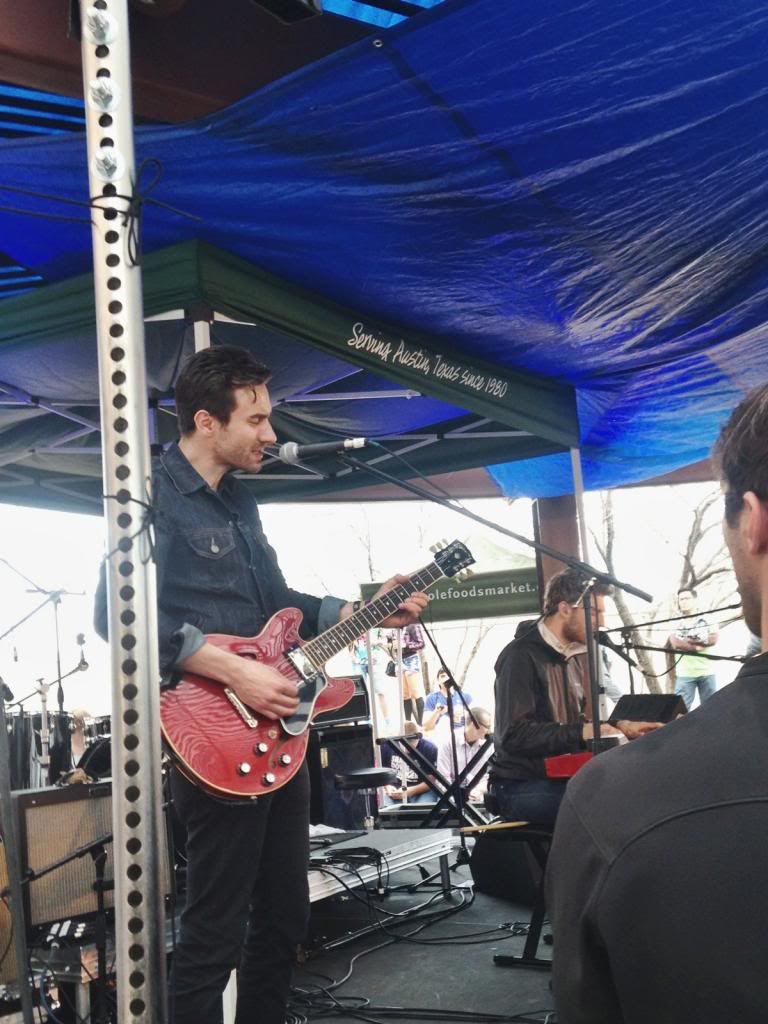 Quantum Collective featuring Andrew Belle
Now I wouldn't say Whole Foods rooftop is the sexiest place to throw a concert series, OR that it's made to support alternative electronic acts like Andrew Belle, but that's what you GOTS to love about SXSW – they bring the music to you. Everywhere. And rain? Psh, rain is for amateurs. Nothing stopped artists like Andrew Belle from serenading us with some sultry goodness. Much more tamed than other venues, Belle kicked off his short set with a performance that was so intimate, it could get you pregnant through open ears. Belle made it feel like it was just you, him and his keyboard. And maybe he even made it rain on purpose, because it only made the performance THAT more seductive. Definitely an act to remember.
Neon Gold featuring Miami Horror
Probably my favorite showcase location of the entire festival (a windowless cavernous space), the Neon Gold party put on by Empire Control
Room was straight up bumpin' Saturday night. Sadly, we didn't catch the ENTIRE line up, but the music gods were on our side as we made our way in just in time for Australian indietronic act, Miami Horror. I don't know what they give those Aussies for breakfast, but all I can say is, can I have some please?! Miami Horror's electric performance was the perfect act to end SXSW – they really didn't miss a fucking beat. Naturally they had the crowd going with some of their recent hits like "Holidays" and "I Look to You," but it was guitarist Josh Moriarty's acrobatic moves and the psychedelic light show hypnotizing the crowd behind the group, that really made the act one to remember. Using the ENTIRE venue as his stage, Moriarty, jumped atop the stage speakers to grab hold of pipes lining the ceiling, pulling his body up cirque du soleil style multiple times. At one point I even wondered if he was gonna make it back down without having to be assisted offstage due to a head rush but the man was unstoppable and it was apparent that the crowd felt it. I don't think SXSW could have ended on a higher note…literally. Keep an eye out for these dudes, you're gonna want to trust me on this one.
All in all, if I learned anything new this year's SXSW, it's that the festival isn't made for your average music 'fan', nerd, or wannabe. It takes work. Like, a lot of fucking work. You're sleep deprived, dehydrated, hungover (if you're me), and probably haven't seen a green vegetable in over a week. But what I can say is that it is worth every damn beat.
See you dudes next year!
Writer + Photographer | Monica Apodaca