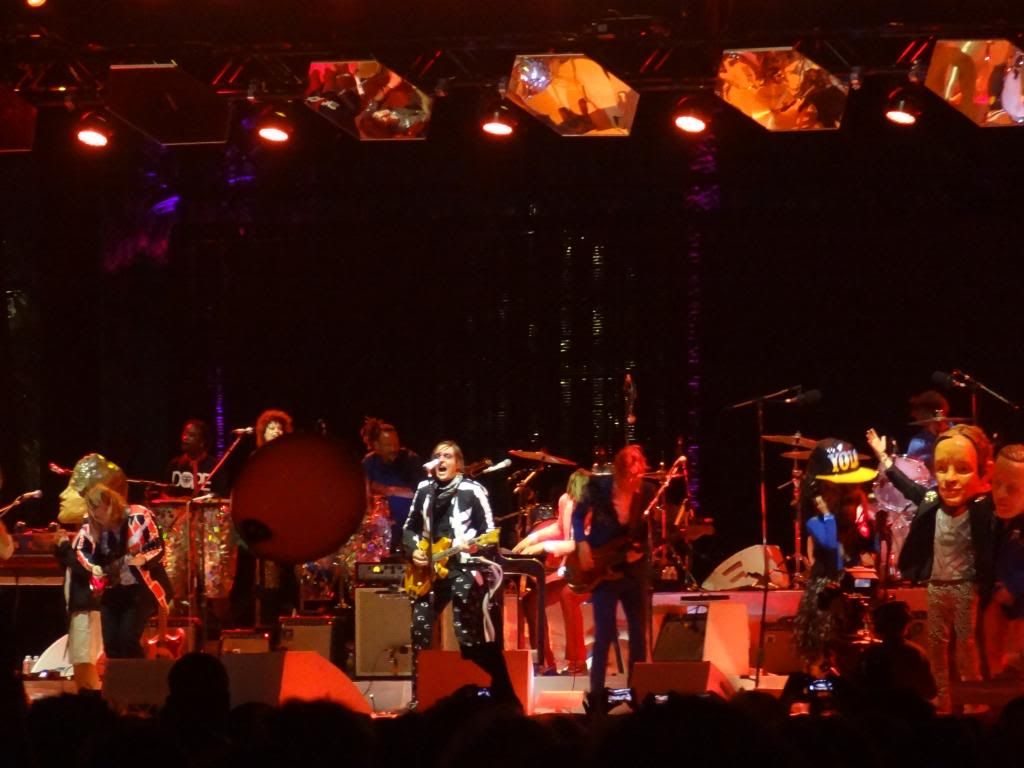 Coachella Does it Again
2014's Coachella may have been the best yet.
A stellar combination of reunions, hot rising acts and classic Indio staples is what will make this one of the most memorable in recent memory. The beauty and downside to spending three glorious days in the sun — is that it lasts just long enough, but never is quite enough. She always leaves you wanting more. We give you our take on what we saw and what made us go nuts in the desert:
Day One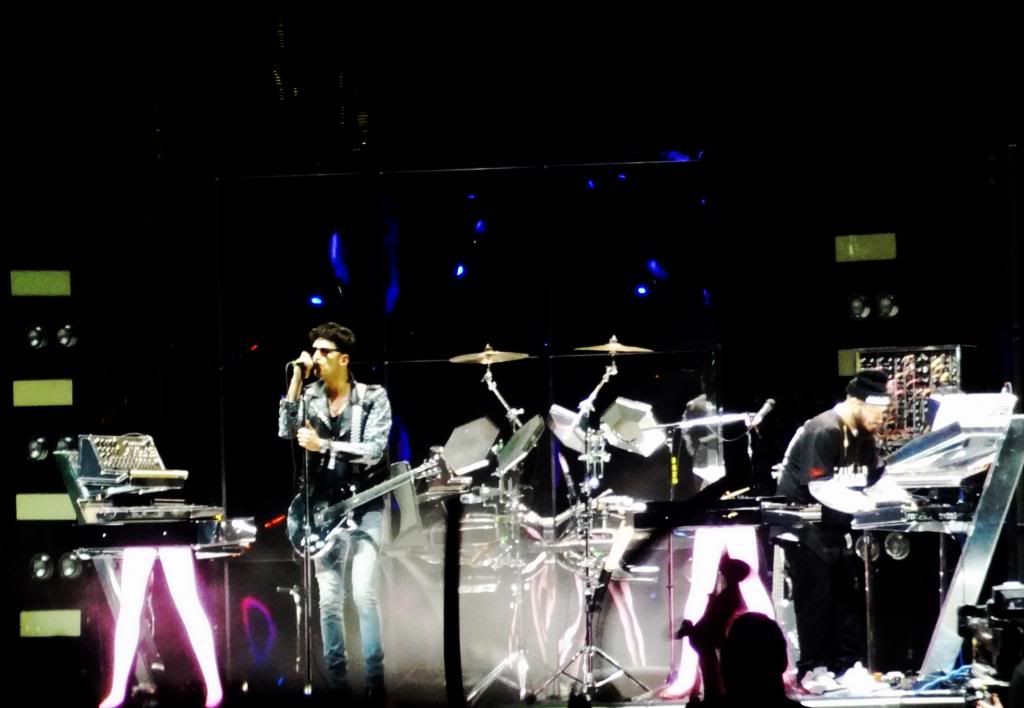 "CHROME – E – O –OOOOHHHH," nothing gets you more in the mood for a set than this epic chant. Heard round the world, it's akin to the Bat signal, once it's out there, you know where you have to be, hero person. The duo's perfecting their production too, layering in new tracks to the act nicely, as "Jealous (I Ain't With it)," "Over Your Shoulder" and "Come Alive (feat. Toro Y Moi) all spurred the first huge dance party of the weekend at the Coachella Stage (Main Stage). Toro Y Moi added dope support on that last track making a special guest appearance, as this set officially jumped off Coachella 2014.
If you didn't get the memo, the Australian DJ, Flume, is huge. Checking out his set at the Gobi stage was an exercise in the meaning of up close and personal, as the only way you we're going to see him was by making nice with your neighbors. It felt like in that moment, all of Coachella was there. This reminded of Ratatat and 2 Chainz in recent years, artists too big for respective the stage they were playing. And even though you find a decent place to park your behind, the set was amazing. Do yourself a favor and see him, you won't be disappointed. Promise.
Outkast was the show stopper head banger of the eve. Several acts made a run for best of the festival, but on Day One — no one was better despite what you may have read. Getting the party started with "B.O.B" the boys from Atlanta didn't stop. Well, until they brought out the rapper Future, killing the momentum they had built up to that point. Not that he wasn't good, but for the time and place, the move was unnecessary. After a couple tracks from him, order was restored as Outkast finished out their set with "Elevators," "Ms. Jackson," "So Fresh, So Clean," "The Way You Move," and "Hey Ya!" Throughout the set you could hear Andre 3000 asking to be turned up in the monitor, so it wasn't their cleanest outing by any means, but when the boys were in it, they were in it and the crowd responded likewise. The fact that these two hadn't played together in almost a decade and still managed to drop legendary tracks in such an energetic and upholding nostalgia kind of way, put it up as the day's number one. Even if the haters didn't cut em any slack.
NOTABLES: Deorro, Aloe Blacc, Gareth Emery, Broken Bells, Hot Since 82
Day Two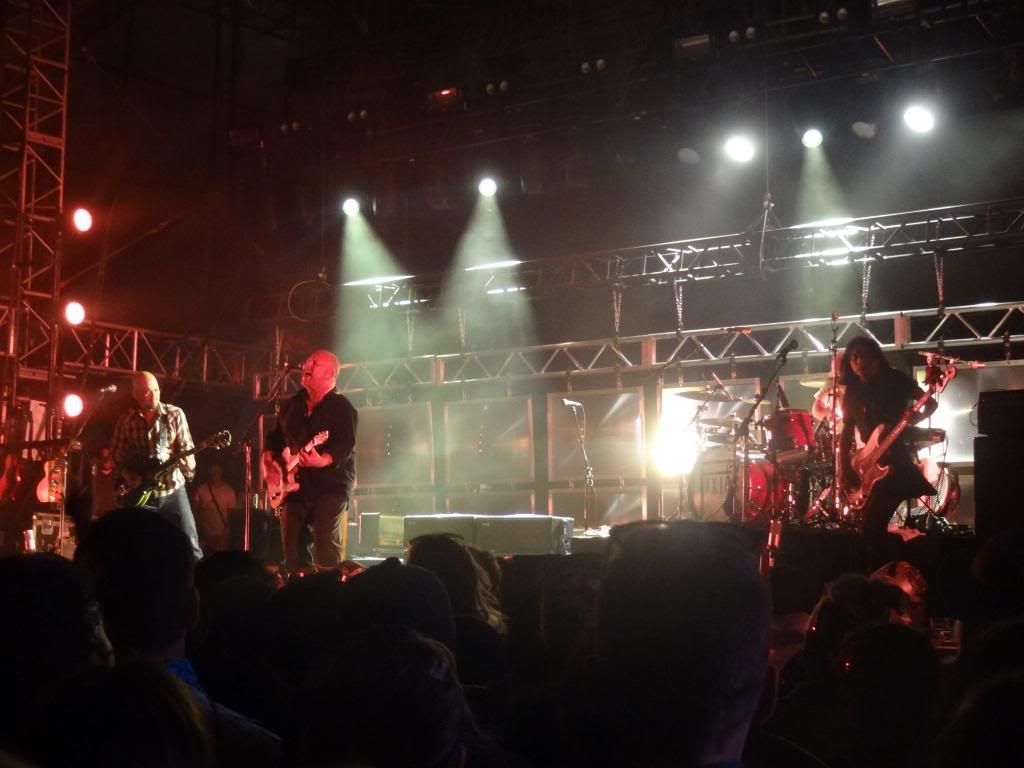 Another notable reunion was the super rad Coachella return of the Pixies, who came back to the festival after a 10 year hiatus. For anyone who doesn't know them (Yes they were without original founder Kim Deal), study up. Their brand of alt indie surf rock was on full display Saturday and they didn't disappoint. Rocking through classics like "Bone Machine" and "Where is My Mind (peep the video)," the Pixies reminded young and old alike of just who they were and that they're certainly not going anywhere anytime soon.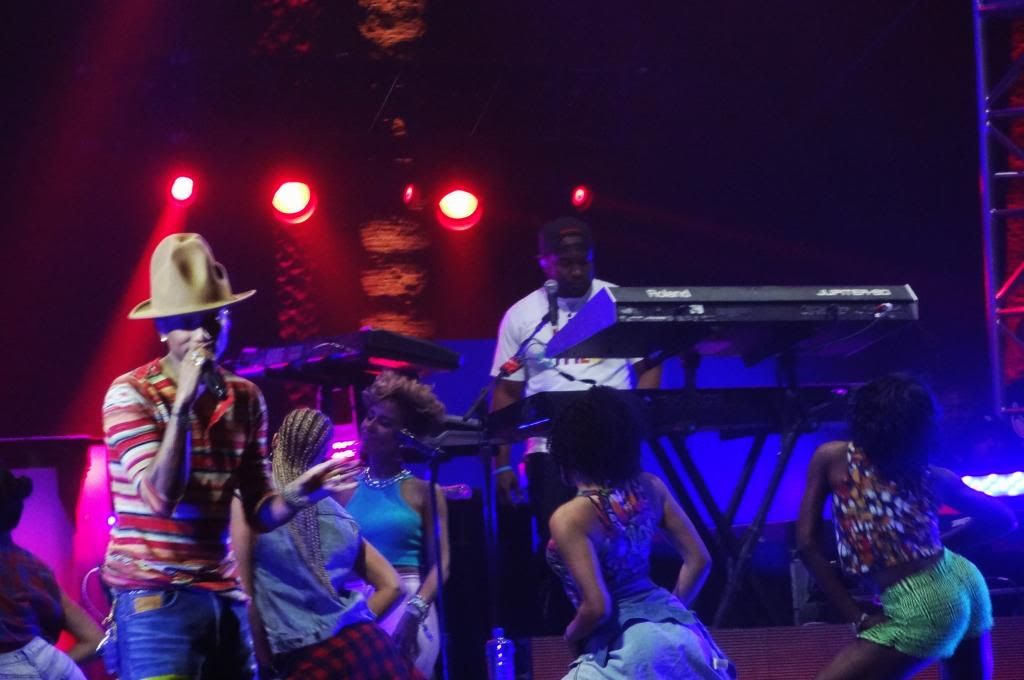 What can you say about Pharrell? Just when we thought the party couldn't get any more live than Outkast's set the night before, Mr. "Happy" himself made it known his set was going to be on full blast from the get. Incorporating hot tracks like "Brand New" and "Hunter," no crowd danced their ass off more. And once he had everyone going on that Girl action, he turned our time with him into a star studded event, with guest appearances that have at one point commanded their own set times. From Snoop Dog to Busta Ryhmes, Nelly to Gwen Stefani, all of Indio vibed hard from 10:35 – 11:35pm. All that was missing was a cameo from the robots. Watch out Weekend Two, that's going to happen.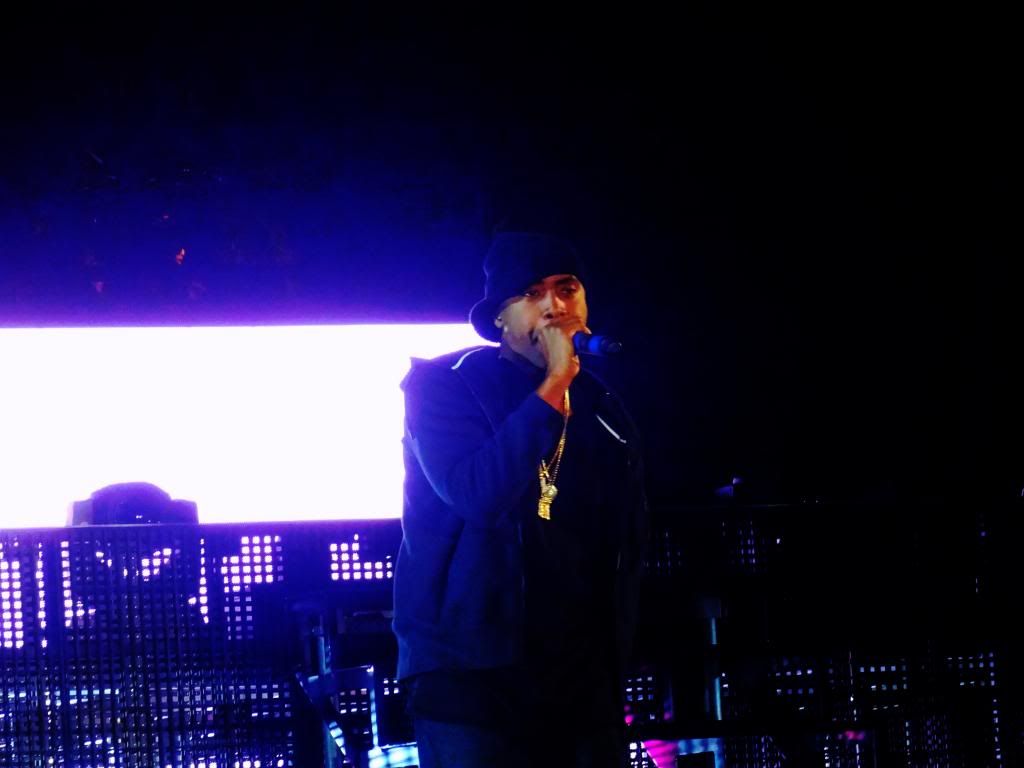 Nas closed out this night with an impeccable performance of Illmatic. Celebrating 20 years of it's release, he dropped classics like "Halftime," "The World is Yours" and "It ain't Hard to Tell" to a super knowledgeable crowd. If that wasn't enough, HOVA (Jay-Z) himself came to perform "Dead Presidents II" solidifying the bond between two of the genres all-time heavyweights. Make sure to check out the Illmatic documentary that dropped this week as well. The shit was historic.
NOTABLES: City and Colour, Kid Cudi, Sleigh Bells, Future Islands, RL Grime GTA, Dillion Francis, Fatboy Slim Capital Cities , the Head and the Heart
Day Three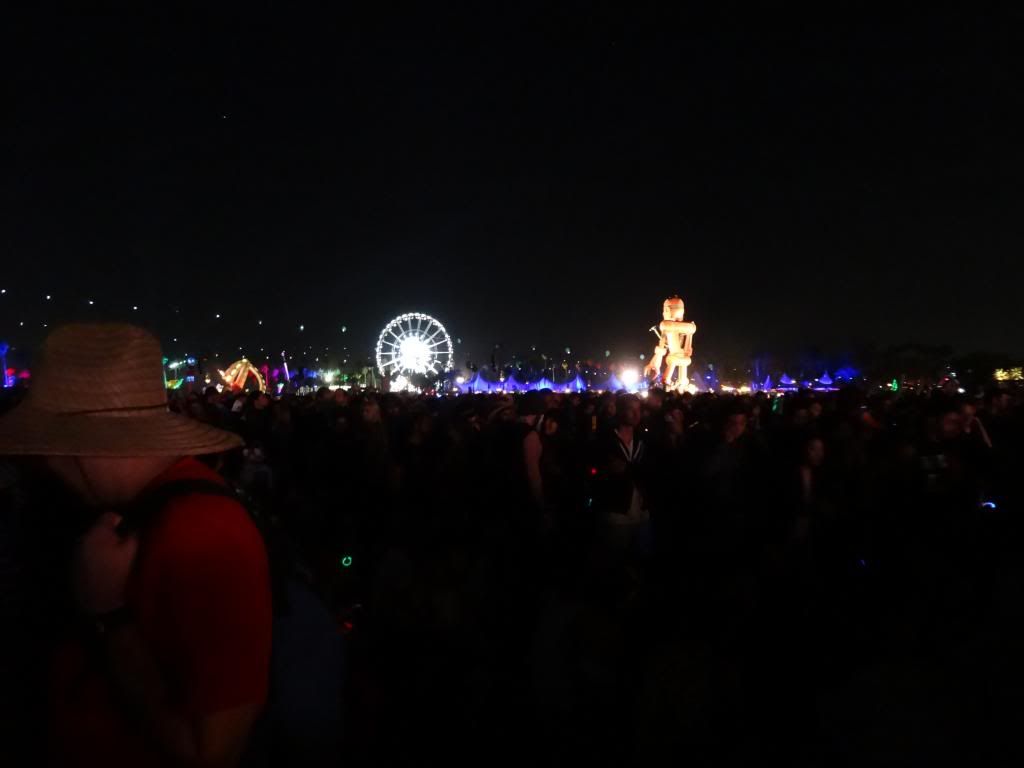 After two days of bands bringing all they had, the Sunday bands were jealous. The entire day had a Saturday vibe to it.
Calvin Harris absolutely destroyed it. In my 6 years coming here, I've never seen an artist have more people at the Main stage moving all at the same time. Absolutely Incredible. People who were watching other sets, were compelled to leave once Calvin dropped his sick beats and baselines during Chella twilight. I was one of them, as I was checking out Little Dragon, when Calvin came calling. He made all of Indio groove.
Beck was amazing as always and went on a cool nostalgic rant on how he was one of the headliners of the first Coachella back in 1999. It was a lineup that featured Rage Against the Machine, Tool and the Chemical Brothers. It says a tremendous amount about Beck, that 15 years later, the man is still commanding this type of attention. He wears staying power so well.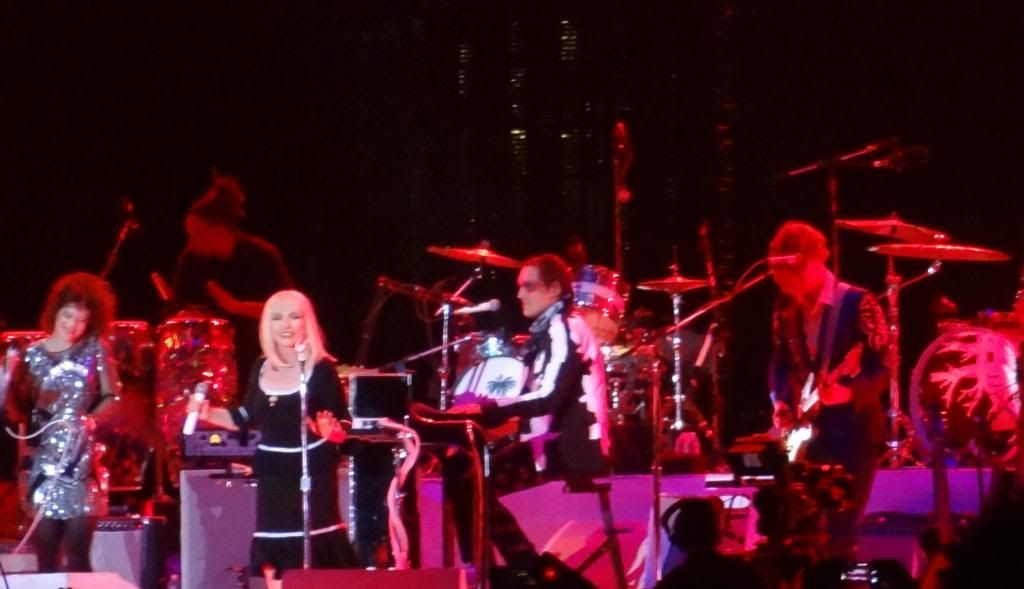 In 2011, we witnessed a historic Arcade Fire set. Fresh off winning their Grammy for The Suburbs and en-route to becoming the huge success they are today, they played arguable the best Coachella sets of all-time to one of it's largest crowds ever. Sunday history repeated itself. I'll admit Reflektor isn't my favorite album and having seen them perform it at CMJ when they hadn't really had time to polish it, made me a tad skeptical of how it would play out in the festival format. Best performance of the weekend. Hands down. Kicking off with "Reflektor," bobbing and weaving through early catalog sounds like "Neighborhood 3 (Power Out)" and "Rebellion (Lies)" and back to Suburbs tracks again, it was the perfect arrangement of music. Never should of doubted them, it's what Arcade Fire does. They are the consonant professionals, only proving that with the addition of their new conga band-mates. Just when you thought they couldn't elevate their sound, they did. Bringing out Debbie Harry to play the Blondie cover "Heart of Glass" and Arcade Fire staple "Sprawl II (Mountains Beyond Mountains)", they finished off what I saw as their most complete set yet. All of it due to now having Reflektor in their arsenal. And after all was said and done, they went down into the crowd with the Preservation Jazz Hall band to do an acoustic version of "Wake Up." They would.
NOTABLES: Showtek, Krewella, Rudimental, Art Department, Maceo Plex, Little Dragon, Flosstradamus, AlunaGeorge, Disclosure, Motorhead, Duck Sauce
Final thought. Both Win Butler and Beck ripped on the festival on Sunday, talking about how corporations and the rise of the VIP experience are taking away from what Coachella is about. Butler even gave a "Shout-out to all the bands still playing actual instruments at this festival." A definite dig to the EDM productions that are becoming more and more prevalent in Indio year after year. And part of what they're saying is right. But it's honestly where music is going, where it's been going for some time. EDM is the new Hip-Hop, in the sense that it will define a generation of music lovers. It brings in money and it's what young people are listening to by the masses. It's altered the landscape and that is what music is ultimately about, change. It's not about what's better, or what's worse – it's about what's now. EDM is now. Lucky for musicians like Arcade Fire and Beck, they're still now too. And that's the beauty of what Coachella does, it brings people together. Kind of like music. Until next year people.
Photographers | Rene Ramirez + Steve Adkins