RSVP not included…
Who's ready to start Basel-ing? Everyone's favorite winter break art festival is back with another edition. Who doesn't love uber rich, ultra posh, culture jacking self-anointed tastemakers invading their city? We don't mind it really, for all the economic development and money spent in Miami during the next five days I think we can manage to stay out of all the fake-ass places to kick it for a hot minute. We've been doing it our whole lives down here, plus it brings its fair share of cool shit to do and a fresh coat of paint to our lovely home.
That being said we're here to share with you the beautiful exploits of our boding international arts community with a list of dope parties to check out while you're in the 305. One condition, please remember to tip your bartenders…
10. Fool's Gold Day Off
Why you should go: King Scratch and crew will be down in Midtown capping off five days of art with a little turn-up party and ratchet-ness that this town will definitely need after almost a billion dollars worth of art changes hands. Who else other than A-Trak & Danny Brown would you give this kind of responsibility too?
Ticket Link: 12/7 – LMNT, 59 NW 36th St., Miami
9. AHOLSNIFFGLUE Backyard BBQ
Why you should go: It has a local flavor and all of the 305's weird characters. This is your refreshing alternative to the pretentious Basel crowd sans the linen pants.
Ticket Link: 12/5 – Mokai Miami, 235 23rd St, Miami Beach, 10pm-5am
8. Bardot & iii Points Present: James Murphy
Why you should go: The Indie Dance Leader comes to the carpet to hold down one of Miami's favorite rooms in what's sure to be one of the best party's Basel has to offer. Daft Punk might not be playing at our house but the former LCD frontman will definitely be playing the hits.
Ticket Link: 12/3 – Bardot, 3456 N. Miami Ave
7. Doorly
Why you should go: House heads rejoice Doorly is in Miami bringing that familiar Toolroom sound to Steam. Way too sexy…just way too sexy!
Ticket Link: 12/5 – Steam Miami, 30 NE 14th St., Miami
6. SBTRKT – Live
Why you should go: Coachella 2012 – that's all we really have to say. Click the link, watch the video, buy a ticket.
Ticket Link: 12/6 – National YoungArts Campus, 2100 Biscayne Blvd., Miami
5. De Nolet presented by Ketel One. With Twin Shadow Cashmere Cat
Why you should go: If you're lucky enough to find an invite…Ketel One's providing the drinks, Gigi's providing the food and Twin Shadow & Cashmere Cat will be providing the vibes. We think the chances of you having a super duper awesome time and potentially missing work on Friday or Saturday morning are high.
Ticket Link: 12/4 & 12/5 – Invitation Only for both nights
4. Erykah Badu, AKA DJ Lo Down Loretta Brown
Why you should go: Badu on the one's and two's? We're sure you're going to get your fill of thumps that you'll need some time to find some soul especially in this town. Wynwood and Lo Down Loretta Brown will be that perfect mix to spend your Saturday walking around the wood.
Ticket Link: 12/6 – BET Art Lounge at Fusion MIA, NW Second Ave. and 23rd St., Miami
3. Slap and Tickle afterhours feat. Kaytranada & Special Guests
Why you should go: It's free so that's effin' sweet! Kaytranada is one of the dopest producers out there and E11EVEN is a pretty nice gentlemen's establishment – well at least downstairs it is. An added bonus is that the good dudes at S&T are running the show so even if you weren't here on a Tuesday night you get a taste of one of Miami's best parties. All sings point to yes!
Ticket Link: Free!!! 12/6 – E11EVEN, 29 NE 11th St., Miami, FL – ROOFTOP
2. When Pigs Fly feat. Sasha, Dubfire | Carl Craig b2b Matthew Dear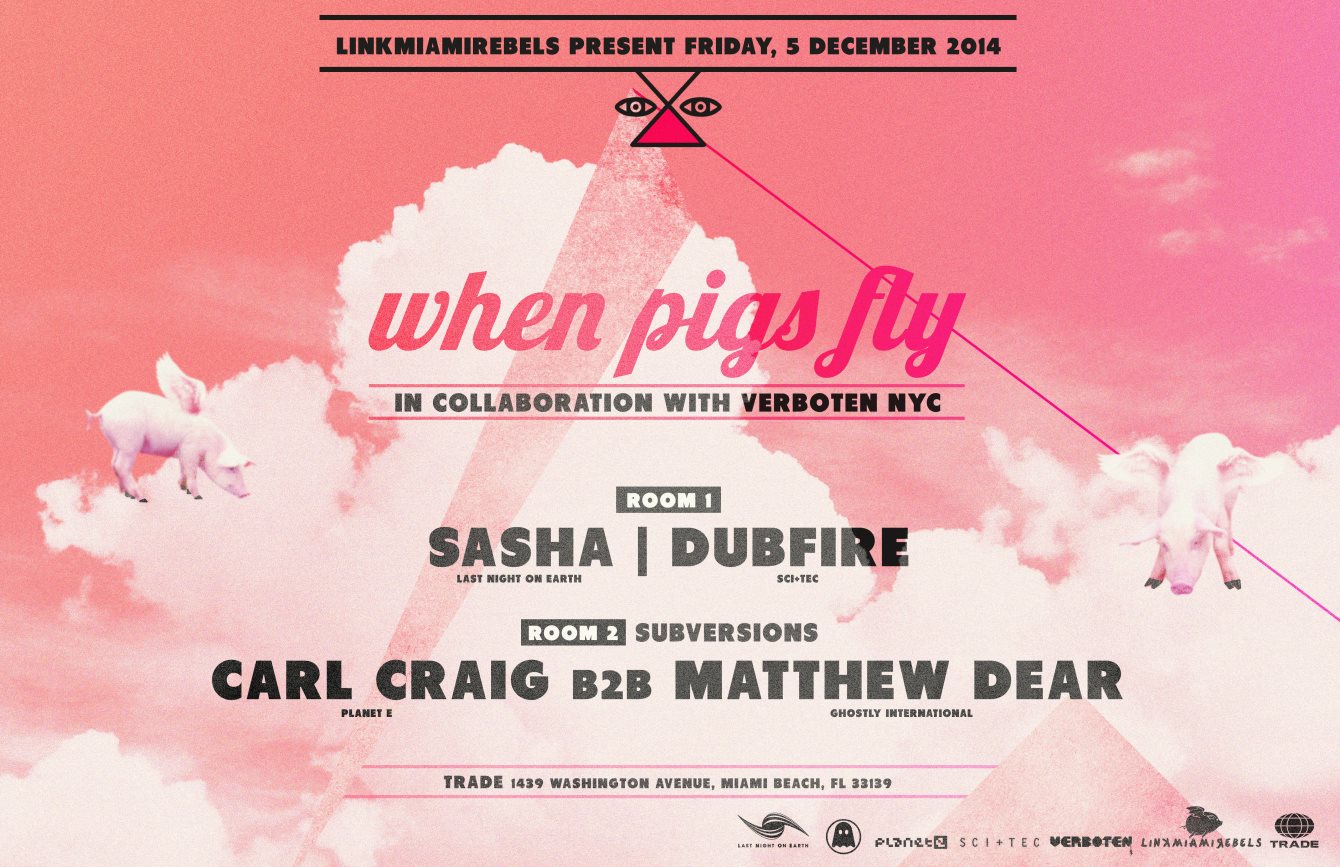 Why you should go: You didn't think the guys at LinkMiamiRebels weren't gonna bring us some heat this week, did you? We didn't think so! And what better way to celebrate Art Basel than getting some House Music legends to do some legendary shit.
Ticket Link: 12/5 – Trade, 1439 Washington Ave., Miami
1. Tuskegee feat. Seth Troxler b2b The Martinez Brothers
Why you should go: One of the world's best Dj's (Seth Troxler) playing along side two beat kings (The Martinez Brothers) from New York. This has our name all over it.
Ticket Link: 12/5 – Space, 34 NE 11th St., Miami